Co-authored: jango, peri, exekias, nati, nicholas, zeugh
Current focus areas are:
Risk mitigation
Web experience
DAO relations
Analytics
Liquidity pools
NFT marketplace
Governance
Protocol upgrades
Materials
Focus areas​
Risk mitigation​
Goal: Make sure things don't go to zero.
Current team: jango (lead), exekias, peri.
Updates:
No new bugs/problems discovered in the contracts.
New repo where security issues are documented here.
Wallet connection issues in the front end solved. One remaining bug where connecting wallet from the projects page sometimes causes the beneficiary field of payments.
DefiYield auditors seems to have dropped off. Need to follow up again.
Focus on security now moved to V2. Documentation, tests, audits, etc.
Help needed:
It'd be great if more folks could help write tests and review the code and documentation as it gets done. We should collaboratively mold this into its final, secure form.
Web experience​
Goal: Improve the Juicebox experience both for people starting communities and for communities that are growing.
Current team: peri (lead), jango, exekias
Updates:
New analytics data in project dashboards. Still room to grow, more data sourced into The Graph and ready to use.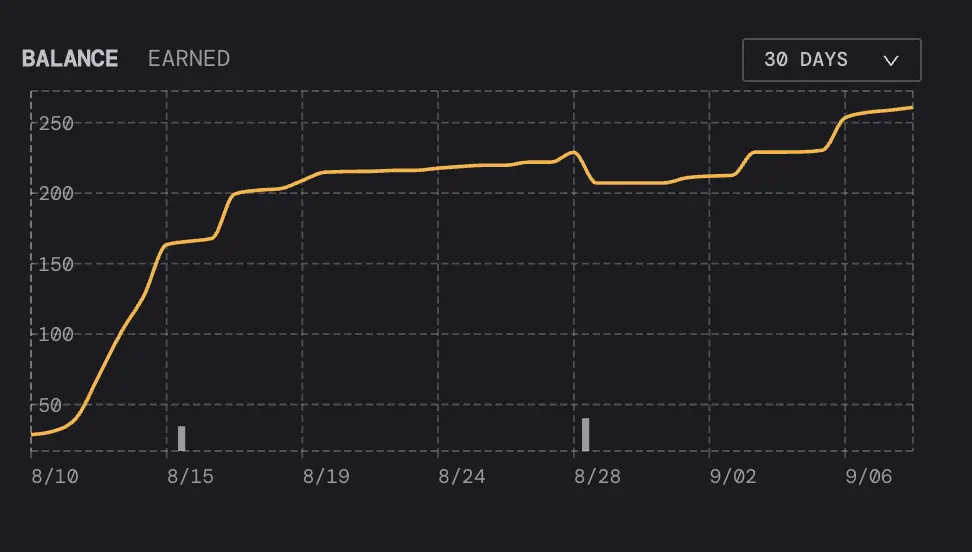 New wallet connection integration. Can now connect with many other wallets with BlockNative integration.
Progress on Github issues backlog.
Wording in the interface being reconsidered:  "staking" vs "claiming".
Researching different UIs for different treasury types.
Help wanted:
DAO relations​
Goal: Work towards making sure JB projects and the JB community have the resources and attention they need to get started and thrive.
Current team: nati (lead), jango, nicholas, mieos, zeugh
Updates:
Gitbook updates underway. Walkthrough, explanation of processes.
Working with Whiteboard crypto, UltraDao, BeatsDao.
Focusing on established DAOs. Might refocus to newer DAOs later.
People should forward questions from #support and from other JB projects to Nati to aggregate into docs.
Analytics​
Goal: Give projects rich insights into their community treasury.
Current team: peri (lead), buradorii
Updates:
Most updated in the UI under the "Web experience" focus.
Experimenting with what data can be accessible in the UI.
No updates on Flipside or Dune analytics.
People want to see current token holders for each projects.
People want to see current FC vs upcoming FC.
People want to see the price the treasury token is being sold at over time.
People want to see the percent of the tokens that they will own at the time of making payments.
People want to be able to play out funding cycle scenarios before making reconfigurations.
Open to help:
Index more Subgraph events.
Display discount rates (tokens/ETH) of past funding cycles.
Liquidity pools​
Goal: Add support for JB treasury tokens in secondary markets for communities to be able to value their assets better.
Current team: exekias (lead), jango
Updates: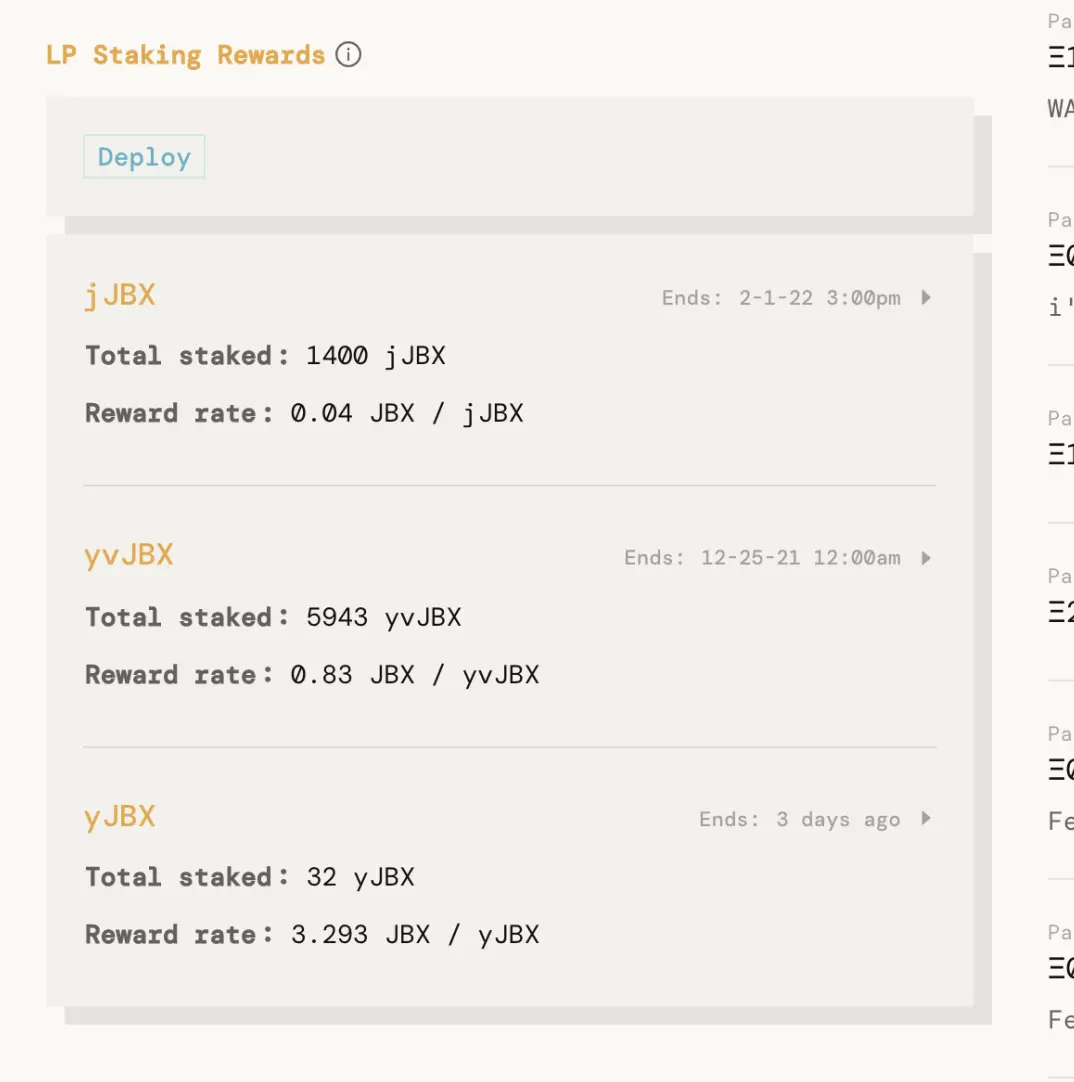 Help wanted:
Comms with JBX project owners (e.g., SHARK) to understand their needs from a staking reward/LP perspective.
Devs with staking rewards expertise.
NFT Marketplace​
Goal: Give JB projects a place to sell digital (and eventually physical) goods which pipe percentages of revenue to any number of addresses or Juicebox treasuries.
Current team: nicholas (lead), jango, peri
Updates:
Big demand from SharkDAO (and others?).
Draft of contract looking good.
Plan for V1 is no UI on juicebox.money, make bare bones JS SDK/library with/for Shark to build a NFT MKT into their forthcoming website.
Need to finalize what will be included in v1, and what won't.
Github repo (private for now)
Goals:
Finalize spec for v1
Get a working v0 implementation on Rinkeby by Monday 2021-09-13 EOD
Get a basic 721 contract together to mint NFTs that we can submit to the marketplace
Help needed:
Jango will help with contract implementation and testing (thank you –nicholas)
Next week open to help starting building a JS SDK
Governance​
Goal: Plan out how we will make decisions together.
Current team: zheug (lead), unicornio, 9birdy9
Updates:
Trying coordinape to test a reputation system. The epoch system feels good, didn't give us the easy integration to voting that we needed after the epoch.
We're still wroking on our basic model for how to make decisions. Need to balance governance power between token holders and reputation/contributions but we haven't got a way to test it yet.
We can, at the moment, take the csv of reputation distributed after the Epoch, but are still looking on how to import those in a strategy to snapshot. Need help from more dev oriented folks to communicate coordinape results onto snapshot.
Help needed:
We need some dev/snapshot help to integrate our new governance system into a snapshot strategy.
Protocol upgrades​
Goal: Evolve the protocol to be more useful.
Current team: jango (lead), peri, exekias, nicholas
Updates:
V2 has been announced here.
Reviewed V2 with Peri, Exekias, and Nicholas, got very valuable feedback that is being iterated on.
Docs for V2 are in progress here.
Help needed:
Same as in the "Risk mitigation" section.
Materials​
Goal: Videos/visuals/memes/stuff that radiates Juicebox vibes.
Current team: WAGMI studios
This is a new section that will have updates next time